Studying the Azalea Sawfly at Charles University Botanic Garden in Prague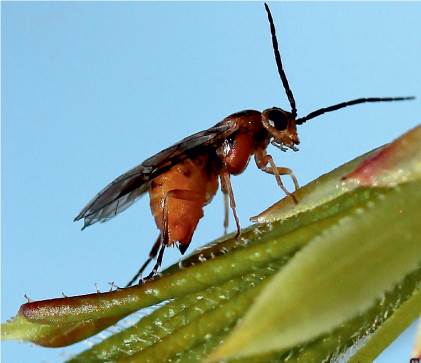 In recent years the Czech Republic has been plagued by a non-native sawfly, Nematus lipovskyi. Previously only recorded in the USA, the sawfly infests the ornamental azalea plant, Rhododendron molle. The sawfly was first recorded in the Charles University Botanic Garden in Prague in 2010. Samples of both adults and larvae were collected within the botanic gardens and sent to the Entomological Department of the National Museum in Prague. Alongside this, a preliminary monitoring project was carried out by Charles University alongside the State Phytosanitary Administration within the botanic gardens. This work has greatly increased the host list for the pest, and has allowed extensive study of the insect's biology and life cycle.
This example of best practise illustrates the relevance of using sentinel plants within botanic gardens to not only identify but also provide relevant information on a particular pest. In turn, this information can be used to determine the risk a pest poses and potentially aid in the development of appropriate eradication and/or containment programmes. It also demonstrates the value of collaboration between different institutes; botanic gardens, research institutes and governmental organisations.
To find out more about the Azalea sawfly and the research carried out within Charles University Botanic Garden, please click here
Myrtle Rust Sentinel Project – Auckland Botanic Gardens
Myrtle rust (Puccinia psidii s.l.) is an invasive plant disease first detected in Australia in 2010. New Zealand are on high alert for any signs of this disease in Auckland due to past instances of rusts being blown across the Tasman sea from Australia. All Myrtaceous species are potential hosts of myrtle rust. For NZ this causes concern for a number of native species including the iconic NZ Christmas tree Metrosideros excelsa, important early successional plants e.g. kanuka (Kunzea spp.) and manuka (Leptospermum scoparium) as well as threatened species such as Metrosideros bartlettii and Kunzea sinclairii, edible fruit crops (e.g. feijoa Acca sellowiana) and ornamental horticultural plants (e.g. bottle brush Callistemon viminalis). Auckland Botanic Gardens has established a sentinel project where a subset of Myrtaceous plants grown at the gardens are now mapped and regularly checked for the disease. The aim of this project is to detect myrtle rust as early as possible (if it arrives in the country) and, if it does, to monitor its host preferences and rate of spread, as well as health implications for a range of native, threatened, economic and horticultural plants.

By Rebecca Stanley, Auckland Botanic Gardens
Studying Red Band Needle Blight at the Yorkshire Arboretum, Castle Howard and the FC Wykeham nursery, both in the UK
The possibility of a British landscape free of the Common Ash (Fraxinus excelsior) has rightly caused considerable public outcry as well as raised concerns amongst the industry professionals and the scientific community. Yet the emerging threat of the defoliative disease Red Band Needle Blight (RBNB) to our native Scots Pine (Pinus sylvestris), also warrants further scientific research.

One of Britain's three native conifer species, Scots Pine is moderately susceptible to RBNB's causative agent, Dothistroma septosporum, which has over 80 other recorded hosts. Defoliation caused by RBNB has historically caused severe damage within the Southern Hemisphere's exotic pine plantations but more recently disease incidence has increased exponentially to over 60 recorded countries.

My research project investigated the efficacy of a field-diagnostic technique being developed by the UK's Food and Environmental Research Agency (FERA) to detect Dothistroma septosporum. Diagnostics play a significant role in forest disease management both in terms of quantifying and strategising against pathogenic spread. The portable LAMP assay has the potential to accurately detect and amplify target DNA within 15 minutes. The field-diagnostic was applied to two different sample sites - plantation stands of Corsican Pine (Pinus nigra var. maritima) within FC Wykeham nursery and individual Pinus jeffreyi from the Yorkshire Arboretum. Interestingly 77% of arboretum samples tested Dothistroma-positive despite their more asymptomatic appearance. Meanwhile, the overall experiment provided a useful validation of the method's practical strengths and limitations.

The Yorkshire Arboretum was a practicable sample site for the nearby FERA yet these institutions have enormous scientific potential for international research. Studies can be more rigorously tested because botanic garden or arboretum specimens provide further variables for consideration such as intensity of management or uncommon provenance. Furthermore these sites represent remarkable sources for investigations into tree disease resistance or tolerance to anthropogenic climate change.

By David Chesterton