An IPSN and RBGE Workshop: Illustrating botanic gardens and arboreta's commitment to plant health and better biosecurity
4 April 2017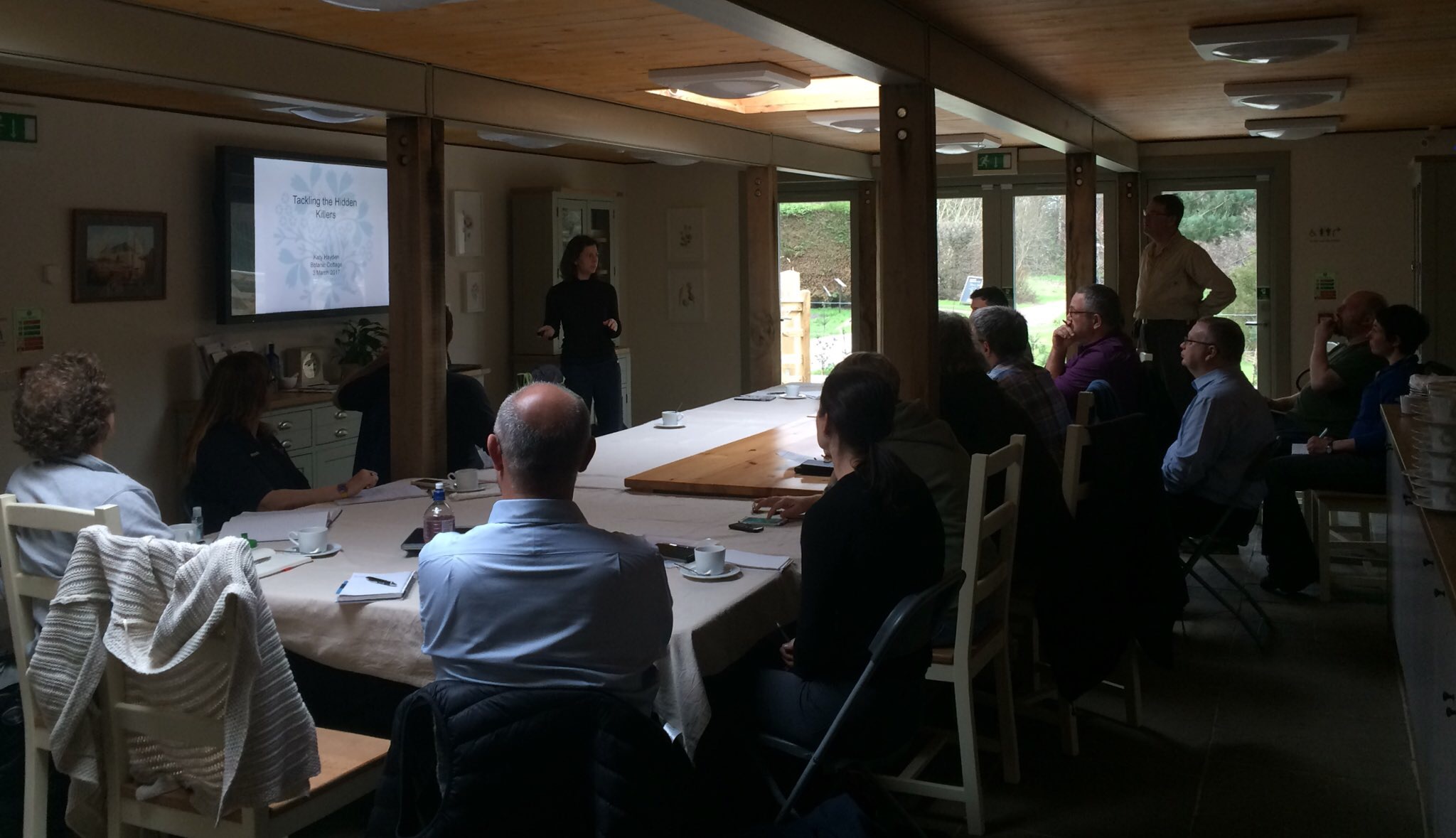 On Tuesday 28th March the IPSN, in collaboration with the Royal Botanic Gardens Edinburgh (RBGE), held a workshop in the garden's beautiful Botanics Cottage. The event was attended by a range of staff from; RBGE, the Royal Botanic Gardens Kew, Fera, the RHS, St Andrews Botanic Garden, Threave Garden and Estate the National Trust for Scotland, Ireland's Department of Agriculture, Food and the Marine (DAFM), the Yorkshire Arboretum and BGCI.
The main focus of the day was to discuss new and emerging pests and diseases that pose a prominent risk to UK flora. Chris Malumphy from Fera gave a breakdown of the current 'top' pest threats, whilst Adrian Fox and Charles Lane (also Fera) presented the 'top' diseases; these included emerald ash borer, Asian and Citrus longhorn beetle, mountain-ash ringspot virus, Sirococcus blight of cedars and sweet chestnut blight. All of the organisms discussed are of high concern to statutory authorities, and need to be reported quickly so that appropriate action can be taken to control spread or (preferably) eradicate them before they establish. As a result, all organisms presented are either (as of writing) not present in the UK, or present in very low levels.
In the afternoon William Hinchliffe from RBGE showed attendees around the gardens looking at specific pest and disease challenges they are currently facing. This includes certain Phytophthora species which were discussed in more depth by Katy Hayden. The walk-around gave all attendees an opportunity to chat about the problems in their gardens and the possible management that is undertaken.
Throughout the day there were also many interesting conversations about the role of botanic gardens and arboreta in plant health. These ranged from new research ideas, to the need for education, of not only the general public but staff and horticultural students as well. A significant output of this workshop will be to follow up on such work, and further explore opportunities for plant health research and education/engagement guidance within the IPSN.
IPSN workshops provide an opportunity for garden staff to network, share knowledge and increase their understanding of current threats. The reciprocal exchange of information between botanical and arboreta with plant health scientists who inform policymakers is a key element. The discussions clearly demonstrated botanic gardens and arboreta can not only play an important role in detecting new and emerging pests and diseases, but also help to initiate and support research into new threats, as well as engaging the public. Their unique plant collections, alongside their talented and dedicated staff, offer extensive opportunities for research that can be used to better our understanding of damaging organisms and promote understanding and engagement amongst the public.
The IPSN wishes to extend a big thank you to the Royal Botanic Gardens Edinburgh, Defra and the BigGive for supporting the events, and all the attendees.